Lanai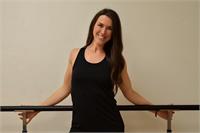 Certification:
Style of Teaching:
Favorite Music Style:
Favorite Hobby:
Favorite Travel Destination:
Favorite Athletic Apparel Brand:
Favorite Workout Aside From What I Teach:
Favorite Fit Food:
Indulgence:
Guilty Pleasure:
Lanai instructs the following:
studioBARRE is an intensive body shaping experience designed to produce reliable results, no matter the client. The method is influenced by classical and modern dance and utilizes a barre to achieve optimal positioning. Insights from Pilates, yoga, and orthopedic stretching also balance the method's unique approach. Mat, hand towel, and all class accessories provided. Please arrive 15 minutes early for your first class.