Nikki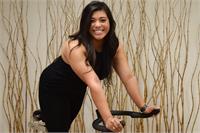 Certification: zenstudio studioCYCLE certification, zenstudio studioSCULPT certification
Style of Teaching: positive & and motivating
Favorite Music Style: whatever is on the radio
Favorite Hobby: reading
Favorite Travel Destination: London, England
Favorite Athletic Apparel Brand: Old Navy tank tops and Nike leggings
Favorite Workout Aside From What I Teach: high intensity intervals over a shorter time period (usually brain breaks from studying)
Favorite Fit Food: USANA dutch chocolate whey protein meal replacement shakes
Indulgence: chips and queso!!!!
Guilty Pleasure: binge watching Netflix on a Saturday (maybe Sunday too)
Nikki instructs the following:
black lights, loud bass + energizing instructors leading you through a beat based ride with choreographed cardio + an upper body sesh (or two). burn calories while pretending you're in a club - it's pretty much the best thing ever.




This 60 minute combo class using HIIT (High Intensity Interval Training). This method employs intervals of maximum exertion followed by intervals of recovery. This burns major calories, blasts fat, and helps to build a strong, healthy heart. In this class we combine 35 of interval training on the bike followed by 20 minutes of strength training on the floor and a 5 minute stretch. Cycling shoes, mat, hand towel, and all class accessories are provided. Please arrive 15 minutes early for your first class.




bounce is the new black (...really, though). in bounce we alternate choreographed cardio with strength intervals both on & off the trampoline. don't worry - you don't need to be a dancer - you just need to like burning a lot of calories and having a good time.