Rachel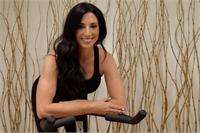 Certification: zenstudio studioCYCLE certification, zenstudio studioSCULPT certification
Style of Teaching: because of my background in dance, I incorporate rhythm into the foundation of every class i teach
Favorite Music Style: I love a variety of music! my favorites are hip hop/rap, rock & alternative. i have to have a great beat!
Favorite Hobby: I LOVE to cook, read, & travel
Favorite Travel Destination: Paris!
Favorite Athletic Apparel Brand: lululemon, beyond yoga, & alo
Favorite Fit Food: I love anything green! And all veggies too!
Indulgence: cheese! I have never met a cheese i don't like!
Guilty Pleasure: shopping!
Rachel instructs the following:
black lights, loud bass + energizing instructors leading you through a beat based ride with choreographed cardio + an upper body sesh (or two). burn calories while pretending you're in a club - it's pretty much the best thing ever.




This 60 minute combo class using HIIT (High Intensity Interval Training). This method employs intervals of maximum exertion followed by intervals of recovery. This burns major calories, blasts fat, and helps to build a strong, healthy heart. In this class we combine 35 of interval training on the bike followed by 20 minutes of strength training on the floor and a 5 minute stretch. Cycling shoes, mat, hand towel, and all class accessories are provided. Please arrive 15 minutes early for your first class.




bike + barre is the best of both worlds: the first half is intense heart pounding cardio on the bike + the second half is strengthening & lengthening at the barre. this class is perfect for our cardio queens + barrebies.