Rachel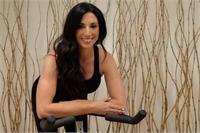 Certification: zenstudio studioCYCLE certification, zenstudio studioSCULPT certification
Style of Teaching: because of my background in dance, I incorporate rhythm into the foundation of every class i teach
Favorite Music Style: I love a variety of music! my favorites are hip hop/rap, rock & alternative. i have to have a great beat!
Favorite Hobby: I LOVE to cook, read, & travel
Favorite Travel Destination: Paris!
Favorite Athletic Apparel Brand: lululemon, beyond yoga, & alo
Favorite Fit Food: I love anything green! And all veggies too!
Indulgence: cheese! I have never met a cheese i don't like!
Guilty Pleasure: shopping!
Rachel instructs the following:
black lights, loud bass + energizing instructors leading you through a beat based ride with choreographed cardio + an upper body sesh (or two). burn calories while pretending you're in a club - it's pretty much the best thing ever.




bike + barre is the best of both worlds: the first half is intense heart pounding cardio on the bike + the second half is strengthening & lengthening at the barre. this class is perfect for our cardio queens + barrebies. but express!




sculpt is our circuit training class utilizing BOSU, TRX, medicine balls, kettle bells, resistance bands, gliders & more. come HIIT it with us - you won't regret it.